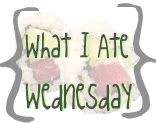 I am going to try to do this alongside
Peas and Crayons
and hopefully get some other readers/tips from those who participate. Play along! It will be fun!!
Breakfast:
No sugar needed! Yes, there are oats in there!!
1/2 C oats
1/2 C skim milk
cinnamon--plentiful amount!
1 full apple cut up
blueberries, strawberries, blackberries, and raspberries. (the last of my haul from the last Farmer's market that was in my freezer from last year)
This is my new favorite way to eat oatmeal. It is funny that a year ago I wouldn't have been able to stomach the texture of this dish, but the hearty and satisfying mouthfeel has grown on me and I LOVE that I don't need sugar anymore either!
Lunch:
L's brother drew my name for Christmas last year, and he got me a bento box that I finally got to use on Monday for my lunch. Let me tell you, filling it with good foods I made was super fun, and eating from it was even MORE fun!
Calzone
(wrapped in saran wrap in the mesh area)
In the box clockwise starting with the dish in the back left:
Spiced Citrus Salad
Homemade Crackers
baby carrots and almonds
Stuffed Corn Muffin
Glazed Pear Muffin
(dessert)
On the side of the box:
hummus
Homemade granola bar
Ranch dressing
(OMG YUM)
YAY!
I'm not going to lie, I am pretty proud of myself and the fact that of the food in my bento box, I made 7/10 items that I packed. I couldn't say this a year ago. My lunch would have consisted of processed, fatty foods.
(If you like fun meals check out
all these awesome bentos!!
)
Snack on the way to
practice
:
1 cut up apple
3 small slices of cheddar cheese
10 almonds
Dinner:
I didn't get home from
practice
until 9:20, which kills me to eat that late, so I really try hard not to.
I had 1/2 a Chobani strawberry yogurt and went to bed.
Your turn! What did YOU eat?!?!?!?!